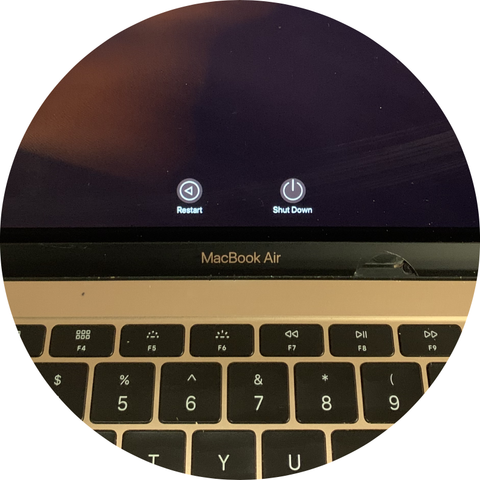 Bottom Glass Strip Under Screen / Bottom Glass Bezel With Logo - MacBook Pro 13" Retina 2016-2022 (A1706/A1708/A1989/A2159/A2251/A2289/A2338)
Pick this service if your MacBook Pro 13" Retina 2016-2022 (A1706/A1708/A1989/A2159/A2251/A2289/A2338) has cracks in the bottom glass strip underneath the screen (glass strip which says 'MacBook Pro' on it), and the screen is fully functioning and intact. If left as is, shards of glass may damage the orange ribbons underneath this, which is a part of the screen and responsible for showing image. If your screen is displaying lines, bars or no image at all, this repair will not resolve your issue and you will need a screen replacement; click here to see how much we charge to do this for your model.
We use the more expensive genuine new bottom glass strips, since most sold on the market are cheaper OEM/copies, and have a slight difference in the text on the glass (font and spacing in text is different), and are normally plastic instead of glass. We also match the original colour, since there is a slight difference in the text colour, depending on the colour of the MacBook.
Please note, due to the nature of the repair (the glass strip is glued directly to the bottom glass circuitry of the screen panel with strong adhesive), there is always a risk of damage to the screen when performing this repair. This is extremely unlikely, since we have a specific method and tools to reduce the risk, but we have to make this clear; we cannot accept liability if your screen is damaged during the process. We have never had a screen fail since offering this service to customers, after perfecting this method whilst refurbishing our own screens, but as with anything glued directly to glass there is always a small risk.
We quote up to 7 working days for this repair to be carried out once received, and all bottom glass bezel replacements come with a 12 month warranty. Also in the price, insured postage both ways (Mainland UK) at no charge.
We have well over 1000 positive reviews combined, and you can read these by clicking here.
How This Service Works
Add this service to the cart and proceed with the booking. We'll send a prepaid and insured label, so you can get this to us from any UK Post Office to be fixed. If you need packaging, or want a label to be posted across, please contact us after booking and we'll arrange this.
We check your MacBook and then proceed with the booked repair. We quote up to 7 working days for this particular repair; if you need this quicker, please contact us and we may be able to offer our faster Express Service at an additional charge.
Once fixed, we'll ship this directly back to you via DPD.

Repair Service Warranty
For any parts we have fitted for this service, we will give you peace of mind and provide a 12 month warranty.
Please note, this warranty is valid on successful completion of a repair, and does not cover physical or liquid damage which has occurred after the initial repair. We can only warranty any work we carry out, we cannot warranty the whole device.
For full details, please visit our Terms & Conditions.